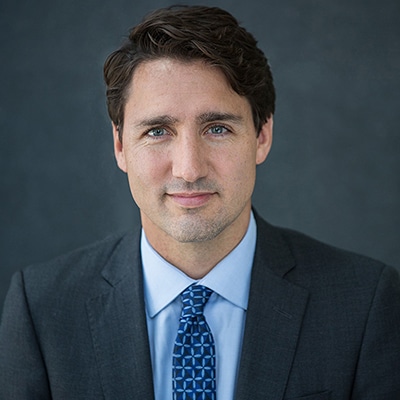 Justin Trudeau
Prime Minister

My condolences to all mourning the passing of HH Pramukh Swami Maharaj. My thoughts are with our friends from @BAPS.

— Justin Trudeau (@JustinTrudeau) August 16, 2016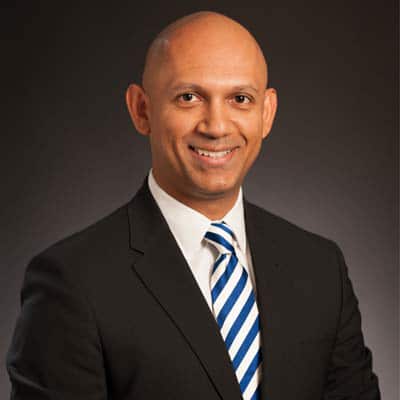 Nadir Patel
Canadian High Commissioner to India

Saddened to hear of passing of HH Pramukh Swami Maharaj, creator of Akshardham, spiritual head of BAPS, inspired many w his selfless service

— Nadir Patel (@nadirypatel) August 14, 2016

Kirsty Duncan
Minister of Science

Deeply saddened by the passing of HH Pramukh Swami Maharaj. Thoughts with the #BAPS community. Jai Swaminarayan.

— Kirsty Duncan (@KirstyDuncanMP) August 13, 2016

Raj Grewal
Member of Parliament

My heartfelt condolences to @BAPS on the passing of HH Pramukh Swami Maharaj. His compassionate service to all will not be forgotten.

— Raj Grewal (@RajLiberal) August 15, 2016

Patrick Brown
Member of Parliament

My heartfelt condolences to @BAPS on the passing of HH Pramukh Swami Maharaj. His compassionate service to all will not be forgotten.

— Patrick Brown (@brownbarrie) August 14, 2016

Sven Spengemann
Member of Parliament


Tony Clement
Member of Parliament

My deepest condolences to BAPS Swaminarayan Sansthe on the passing of HH Pramukh Swami Mararaj. A great man.

— Tony Clement (@TonyclementCPC) August 15, 2016

Kathleen Wynne
Premier of Ontario, Canada

On behalf of the Government of Ontario, please accept my heartfelt condolences on the passing of His Divine Holiness Pramukh Swami Maharaj. I know that he will be forever missed by his many devotees — and forever remembered by them for his spiritual guidance, the inspiration he brought to their lives and his uplifting message of religious peace, co-operation and mutual respect. Having had the honour of visiting the BAPS Shri Swaminarayan Mandir in Toronto and in Delhi, I fully recognize the great reverence in which he was held and the extent to which his loss will be felt by his followers. I also want to take this opportunity to underscore the tremendous leadership he brought to BAPS, his tireless dedication to raising awareness of the richness of Hindu culture and religion and the pastoral counselling he dispensed with care, compassion and humility to devotees of BAPS throughout the world. As you mourn the loss of a deeply loved and much-respected spiritual leader, I once again offer you my sincerest sympathies.
Thoughts with the #BAPS community on the loss of His Holiness Pujya Pramukh Swami Maharaj.

— Kathleen Wynne (@Kathleen_Wynne) August 15, 2016

John Tory
Mayor of Toronto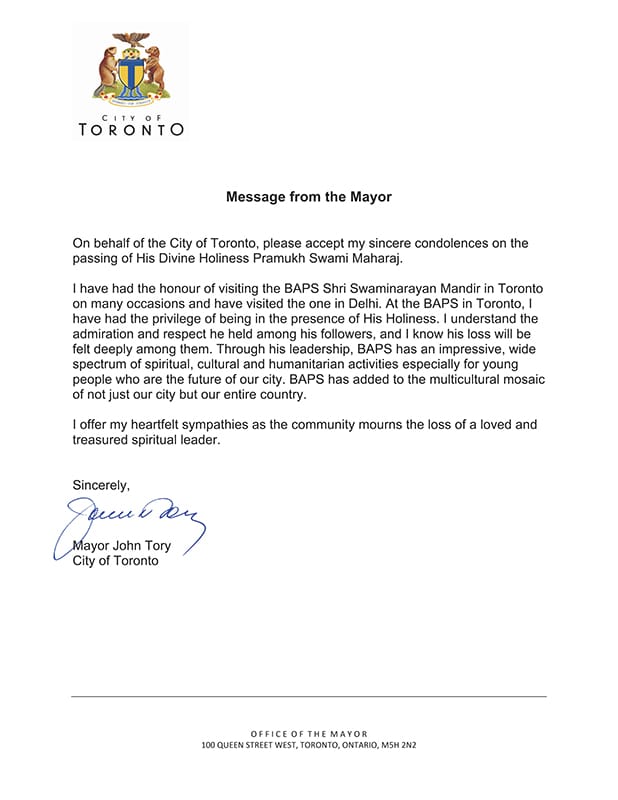 Condolences to my friends @BAPS Temple TO on the passing of Pramukh Swami Maharaj, inspirational leader #PSMTributes pic.twitter.com/Z7bQaaOC7O

— John Tory (@JohnTory) August 15, 2016

Bonnie Crombie
Mayor of Mississauga

Our sincerest condolences to our friends from @BAPS Temple Toronto on passing of Pramukh Swami Maharaj, an inspirational leader #PSMTributes

— Bonnie Crombie (@BonnieCrombie) August 16, 2016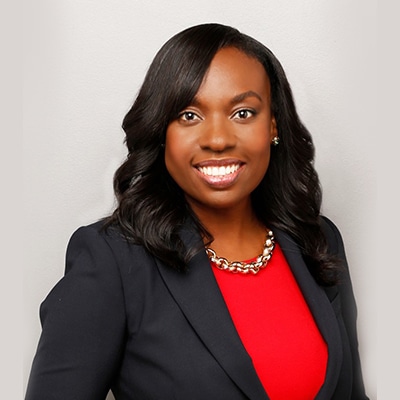 Mitzie Hunter
MPP (Ontario)

Thank you so much for making me aware of this. I loved him. He was so very kind to me. Please pass on my deepest sympathies. My heart is with all of you.

Paul Alofs
President & CEO, The Princess Margaret Cancer Foundation

On behalf of all of the doctors, nurses, and staff at the Princess Margaret Cancer Centre and Foundation in Toronto, Canada, we offer our heartfelt condolences to the worldwide BAPS community on the passing of His Holiness Pramukh Swami Maharaj yesterday in India. HH Pramukh Swami Maharaj's passing is a deep loss for so many, not only for the BAPS community worldwide but for countless people around the globe. Here in Toronto, Canada, the BAPS community, led by the incredible example of HH Pramukh Swami Maharaj, has demonstrated such selfless service to our communities, including the cancer patients and their families at our Cancer Centre. We are incredibly grateful for their service and support, and share their deep grief at this challenging time.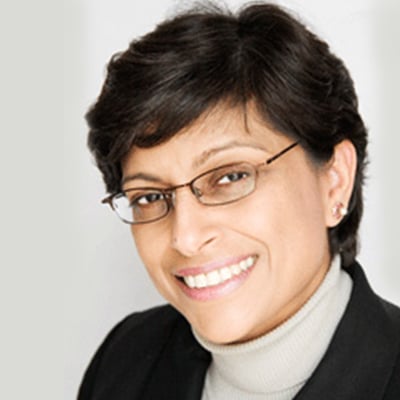 Sheherazade Hirji
President, His Highness Prince Aga Khan Shia Imami Ismaili Council for Ontario

I would like to express our sincere condolences and deepest sympathy on the loss of His Holiness Pramukh Swami Maharaj.